Management Team
CEO: N.K. Mittal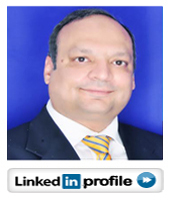 N.K.Mittal (NKM) is a senior finance and IT (SAP) professional having more than 17+ years of experience in the area of Financial and Legal operations, Risk Management, Financial Transformation, Outsourcing, and IT consulting. NKM has been associated with BIG4 and large consulting organizations. Also NKM has been instrumental in large financial transformation projects in SAP Space. NKM's experience helps companies with streamlining financial and reporting process, legal compliances, solving business problems with IT, Performance optimization and Cost Reduction.
Area of specialization includes:
Financial Transformation and Process Optimization

Financial & Planning / Budgeting

Controls and Risk Management

Performance management and MIS reporting

Legal Compliance

Strategic Consulting including Outsourcing
Some of his previous assignments include:
Associate Director with large IT company in India

Technical Consultant with Big 4 in India
Head HR: Manoj Kapoor
Manoj Kapoor (MK), B.Tech. from IIT Roorkee, has more than 42 years of extensive experience in Consulting including Human Resource, Manufacturing processes, and Construction contracts. His experiences extend to advising companies to improve and optimize their work force and work processes including prepare the companies to achieve ISO certification. He has been serving on Board of Directors for large number of companies.
His area of specialization includes:
Behavioral Science (Personal Effectiveness)

Campus to Corporate

HRD (HR Systems, Recruitment, Training & Development) for IT companies

Strategic Management

Operations Management
Some of his previous assignments include:
Director Projects in the Oil & Gas projects with Mushrif Trading & Contracting Co., Kuwait

General Manager, Videotronics Noida, a sister company of Bush India Ltd. to set up a greenfield manufacturing Plant with latest state of the art technology and equipment.
Chief Financial Officer: Pramodh Arora
Pramod Kumar Arora (PK) is a Chartered Accountant having more than 21+ years of post qualification experience in the field of Finance, Accounts, Taxation, Financial Planning, and Analysis. His experience includes experience in Corporate finance, in IT Industry, Media industry, in Real Estate industry and in Non Banking Finance Company (NBFC).
He has rich experience in taking strategic decisions, formulating various policies & procedures for financial control in the business, developing annual business plan and budget, monitor performance, variance analysis and taking corrective action.
He has excellent experience in Consolidation and Finalization of Balance Sheet following Indian GAAP, US GAAP and IFRS, ensuring statutory compliance of provisions relating to Companies Act, Income Tax Act, Service Tax, RBI directions and other legal bodies
Area of specialization includes:
Financial Planning & Analysis

Direct Taxation matters

Statutory Compliances

Preparation of policies for financial control

Finalization of Accounts
Some of his previous assignments include:
Gm- Finance, Accounts & Taxation with top Indian NBFC

CFO- Finance & Accounts with a media house
Chief Technology Officer: Mohammad T
Mohammad T (MT) is a senior SAP Solution and Technical Architect with 14+ years of experience in "SAP Basis" including exposure on Next Generation Technologies (Mobility, Analytics, Cloud and HANA). Having spent numerous years in IT consulting and outsourcing events, Mohammad has been associated with different large multi national and diversified cultural consulting organizations.
MT has also been playing a vital role in SAP trainings and developments enriching the SAP Knowledge Repository with his blogs and white papers. Has been a core SAP implementation player with numerous SAP implementations in different SAP technical modules up his sleeves.
Area of specialization include:
SAP HANA

SAP Solution Manager

SAP BASIS

SAP SECURITY

SAP BO

SAP FIORI

SAP Cloud

SAP Training & Development

Strategic Consulting including Outsourcing
Some of his previous assignments include:
Director Solution for SAP HANA side-car implementation for DAIRY INDUSTRY

Director Technical for SAP HANA & SolMan for HOSPITAL INDUSTRY
Head Testing : Sam G
Sam is a senior IT Business Executive with 26+ years experience in the industry. He is results oriented with strong all round experience spanning across multiple areas in IT Business Management, Sales, Solutions, P&L Management, Client Management, People Management, Global Delivery, and Operations Management. He has proven expertise in Software QA Delivery roles, building highly successful teams, innovating and directing high-impact and cost-effective testing strategies, framework, Presales and Quality, resulting in technological and commercial success for the organizations.
Area of Specialization includes:
Established and operated Testing Shared Services delivery model,

Service Level Agreements (SLAs) and Operating Level Agreements (OLAs).

Establishing Testing Centre of Excellence (COE)

General and Specialized testing operations

Different Business Verticals including Banking and Finance (Retail, Capital Market and Global Transaction Business – GTB), Life Sciences, Retail, Telco and Manufacturing lines of business.
His previous assignments includes:
Sam showcases high "change and result agility" behavior and has taken challenges to setup new business and also conducted joint webinars with key principals from Forrester, Gartner, Confirm iQ and HP. Sam has carried out multiple long terms assignments in Europe and US. He has also led Sales team in APAC and ASEAN geography.
SAP Basis, HANA, and Security: Utkarsh Pathak
Utkarsh is a senior SAP consultant having 24 years of IT/ SAP experience. He has been part of large transformation projects including strategic projects like Disaster Recovery Strategy Design, Execution, Business Continuity Planning, Basis, Security, and HANA implementations. He brings great experience in creating Operating Models, IT Strategy plans, Agile methodology, ROI models, and optimizing IT operations. In addition he brings great management skills including Accounts management, Strategic Thinking and Consulting, coupled with strong execution management skills. He has worked consistently to improve delivery time and service levels while reducing costs. Exellent contribution in strategic planning, building high-performance teams, IT Management, Datacenters Migration & Optimization, project management, and implementing best practice methodologies.
His area of Specialization includes:
SAP Basis

SAP APO

SAP Business Ware House (BW)

SAP Enterprise Portal (EP)

SAP Solution Manager

SAP Hana Migration

SAP Cloud Computing

SAP Delivery Management and innovative operating models

Data Center Migration and Optimization

IT Infra Designing and Planning
His previous assignments includes:
Delivery Director with large IT Conglomerate

Sr. Delivery Manager with large IT company
Analytics: Surya Prakash M
Surya Prakash M. (SPM) is a senior SAP BI/BW/BO Solution and Technical Architect with more than 18+ years of experience in IT- Analytics. SPM has been associated with large Transformation project helping organizations develop Analytics capabilities. End to End Implementations, Supports, Roll Outs, Strategic Consulting, Capacity Building, Out Sourcing, KPIs Structuring and Dash presentation for leading Organizations in different verticals. SPM brings rich experience from cross verticals including: Retail, Insurance, Manufacturing, Communications, Petroleum, Healthcare, and Dairy
His specializations Includes:
Industry Benchmarking

Key Performance Indicator (KPI) Designing, Tracking, and Reporting

Dashboard Consulting

SAP Business Intelligence / Business Ware House (BI/BW)

SAP Business Objects (SAP_BO)

SAP ABAP Developments

SAP Business Objects Data Services (BODS)

SAP Business Planning & Consolidation (SAP_BPC)

Migration of SAP BW on HANA
Some of his previous assignments include:
Solution Architect and Strategy Consulting for large companies like Reliance, MassMutual, Cadence, Almarai, Novartis.
Logistics: Nasir. Cb
Nasir Chapparband (NCB) has 14+ years of rich & elaborate experience in SAP ECC Logistics Execution modules and SCM Extended Warehouse Management. He is professionally qualified and Certified in SAP ECC 6.0 SCM Procurement. He has functional domain experience in Manufacturing Industry, where he worked in Procurement department and his current relevant experience is on SAP MM, CIN, WM, and EWM. He has in-depth working knowledge on Material's Management (procurement), Inventory Management, Warehouse management, Logistic execution & SCM (EWM) Extended Warehouse Management, extensively worked on RFC interfaces, EDI-IDOC interfaces with middleware application system(PI ,BI, Mercator), supporting services systems(printers), Non SAP application systems (3rd party systems) interfaces.
He has extensive experience in Consulting, Solution Architect, End to End Implementation, Roll Out, Support, in Multi Countries. He brings rich experience from different industrial sectors like Heavy manufacturing industries, Auto manufacturing, Pharmaceutical & Chemicals, and FMCG industries.
Area of Expertise:-
SAP Material Management

SAP Inventory Management

SAP CIN(Country India Version)

SAP Warehouse Management

SAP Sales and Distribution

SAP Logistic Execution

SAP EWM(Extended Warehouse management)

SAP Interface Design for SAP to SAP or SAP to NON SAP systems.

SAP Data Achieving activity.
Previous experience includes :- Consulting companies Major Big 4s and CMM Level 5
Worked for prestigious client like, ABB, Sandoz, Novartis, Philips, Unilever, Uni-Select, Autoplus, Mahindra and Mahindra etc.